The old Flash CreOFF site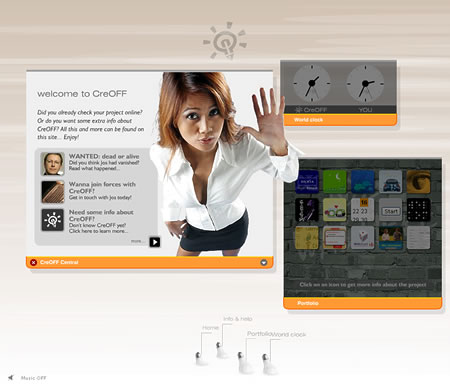 Some people were amazed when they saw the new version of the CreOFF site. And -embarrassing to admit- not all in a positive way. What happened to that nice old Flash site, original yet simple and to the point?
Yep, I admit it must come as a shock to some people that the newest version of the site doesn't add more flashy stuff but actually seems to go back to basics: html, css and images…
The truth is that while it does seem to go back to basics frontend, behind the scenes the site has evolved and it's ready to take on anything web 2.0 has to offer. And let's face it: now the site is easier to maintain as well.
For those of you who never saw the old version (even though it has been gathering dust online largely unchanged over the past 3 years or so) I added a link so you can still visit it. Although this version has been stripped of most functionality since updating all the content to the current status would take too much time.
NOTE: Because the whole CreOFF site has been moved to Google's AppEngine the old flash site can no longer be visited.