ReviewR proof of concept available for download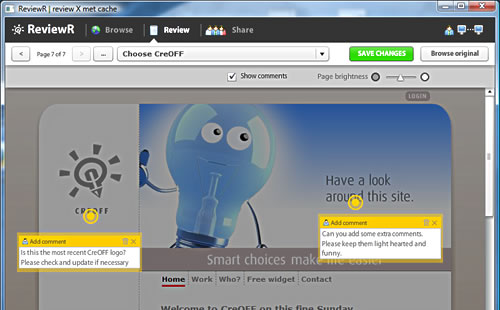 ReviewR is a showcase of a possible solution for reviewing websites and designs. It also shows some collaboration features like inviting people to join your review and give comments.
The ReviewR proof of concept was created mostly with designers and agencies in mind, since they often have to get feedback from customers.
NOTE: at the moment ReviewR is NOT a complete application - it's a "proof of concept" application only, so it's strongly advised not to use it in real life situations. Also, only a limited set of features are included at this time.
These are some of the basic features:
browse to any site via the application and just click "review this" button to start a review of a webpage
click on an element on the page to comment on that element.
capturing html as well as D-HTML or AJAX states
view comment(s) of other participants
invite other participants via e-mail to review the selected pages
drag and drop review files (.rvw) onto the application for easy loading of reviews
uses Secure AMF remoting
registration, lost password handling, etc…
Possible features planned for future versions:
more detailed overview: comments list, contacts list,…
printing reports
capturing Flash states (allowing detailed commenting on Flash sites)
improved functional layout and design
and more…
Some ideas which are integrated into the ReviewR showcase application might appear in a final ReviewR version or even other spinoffs.

Agencies, designers and other developers are invited to give feedback and are welcome to participate in the ReviewR project.

Visit the development site: beta.reviewrhq.com